Our knife set from
Henkel
:
This was our first kitchen purchase as a married couple. Rick insisted that we needed a good knife set, so we headed out with our wedding money funds in our fists, and picked this one. I'm glad Rick insisted. I had never had a nice knife set before, and it makes a world of difference. I use these puppies every. single. day.
This is a pan that
I
picked out, after about a year of being married. I had wanted a Le Creuset pan for quite some time, but they are so expensive. One day I was browsing through Costco, and there on the shelf was this beautiful blue Le Creuset pan. It was love at first sight. Rick was not happy when I came home and told him how much I paid for it (I think it was $180, which is actually a fantastic price for this particular pan). Actually he was kind of mad, but I didn't care. She was mine, all mine. I have never regretted buying it, and even Rick now admits that it was worth the money. I use this all the time. I can use it for anything-- on the stove top for browning, sauteing, simmering, boiling, blanching, and I can pop it in the oven for baking, roasting, grilling. You name it-- it does it. The quality is top notch. It cooks the food fantastically, and the cleanup is a sinch! Made of cast iron, and enameled in porcelain. It's something that I'm sure will stay with me as long as I'm cooking.
My garlic press from
The Pampered Chef
:
My sister-in-law Amanda gave this to me years ago, and it has withstood the test of time. I love this thing, and use it all the time. I love how simple it is to use, and how easy it is to clean up. It has helped spice up many a bowl of fresh guacamole. Yum!
This stacking bowl set from
Zak!Designs
:
This was a wedding present that we got from Rick's friend Carter. I adore them. I love the colors, love how durable they are, love all the different sizes, and love how they easily stack within each other for easy storage. My babies have loved using them for a colorful toy, to stack and nest together, and occasionally even put them on top of their heads (don't worry...I wash them afterward), and I use them probably every day for serving food. They just make the food and the table look pretty.
This was another wedding present that we got from the Barthalomews. I fell in love as soon as I opened the box. It came with one large serving bowl, and then six pasta bowls. We use these more often than the dishes that we registered for. I just love the size of them, the pictures on them, and how great they are for all sorts of food. We use them again...every day.
The pot rack over our island: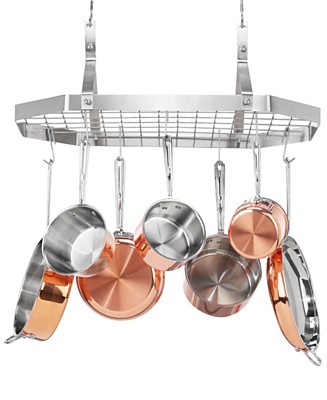 This isn't actually
our
pot rack (or our pots), but it looks kind of like this-- ours is just dark, and I love it. Since we have a small kitchen, it really helps save space, and spices the look up a bit. And it is just oh-so-entertaining, when Rick occasionally whacks his head on one.