My kids are sleeping and I thought I'd share a book I love that I just read to them. It's called
Bear Feels Sick
, by Karma Wilson.
Last Christmas I got the boys
Bear Snores On
, which has the same characters, and didn't realize until recently that there is a series of these books.
I love Bear Feels Sick because it's so sweet how the friends take care of each other and show such concern for one another. I love the illustrations, and the rhythm of the text. I love that to take care of their sick friend, they do things like make herbal tea and broth, paint pictures for him, and sing him lullabies. It was a great one to read, especially with us all having a little stint of sickness this past week.
I'm also reading
Watership Down
, by Richard Adams.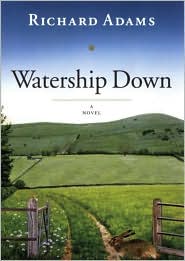 I'm about a third of the way into it, but I am really enjoying it. I can't believe I'm enjoying a story about rabbits so much, but Richard Adams is a brilliant story teller, and I really love the characters.
I'm very seriously considering getting a rabbit now. In my
32 Things to do before I'm 33
, getting my kids a pet was on the list. I've considered getting a fish, but they just seem so boring, plus I always feel sorry for the little guys swimming around in a little bowl their entire life. But a rabbit? Humm. Maybe. We'll have to see if I can convince Rick. Or go buy one before he can say no (haha). Now that's more like it. :-)
Happy Wednesday everyone. I hope your week is going well (and that you're not getting as many annoying political calls as I am).
xoxo