We just finished having some of Vaughn's friends over for his play-school group. The kids had a fun time playing with balloons, making and eating fruit kabobs (we would have had homemade bread to go alongside it if a certain two-year-old of mine hadn't turned the oven up to 500 degrees while I wasn't looking), and building structures with toothpicks and spice gumdrops.
I always love having these kids over and watching the way they play. They are seriously cute. Anyway, I had each of them bring their favorite books, and we talked a little about books, and then read their favorites. A couple of the books I hadn't ever heard of, and thought I would share.
One girl brought
Tinka Bakes a Cake (Tiny Tink! Tonk! Tales)
by Mercer Mayer. It'really different than any other Mercer Mayer books I've read before. I liked the different illustrations and the fun story and names.
Another girl brought
Froggy's Baby Sister
by Jonathan London. I liked the bright illustrations, and thought the story was cute.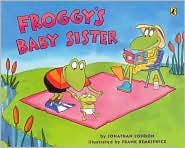 And one of the boys brought
The Pigeon Wants a Puppy
by Mo Willems. We already love the
Knuffle Bunny
books of Mo Willems and
Don't Let the Pigeon Drive the Bus!
, but I hadn't ever read this one. I actually liked it better than Don't Let the Pigeon Drive the Bus. All the kids laughed while we read it.
My boys picked
Harry the Dirty Dog Board Book
to read, a favorite of Vaughn's. I love the illustrations.
What books are your kids loving right now?
So now that my boys are sleeping I'm off to steal a few (or maybe a few more than a few) spice gumdrops, and clean up the toothpicks on the floor. :-)
Happy Wednesday friends.